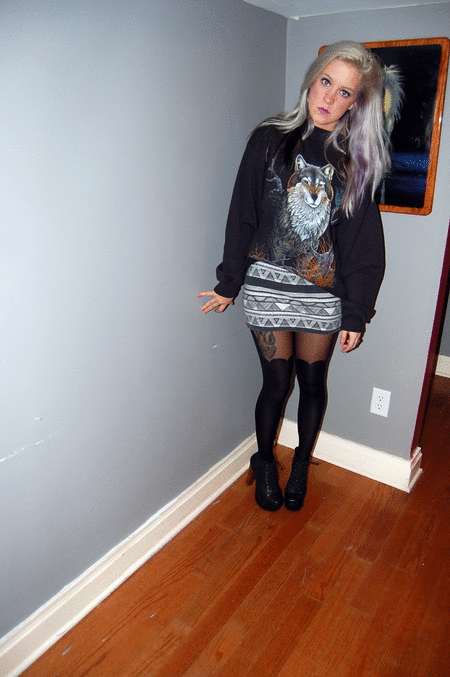 I always keep my eyes peeled for over sized fabulously tacky wilderness sweatshirts. This sweater is one that I picked up recently. I hacked the bottom of it off because it had a thick band that made the sweater lay really horribly on my body. The wolf kinda looks like a Cat but I think it's rad. And it was, like, 85 cents. Score!
I took a trip to Bloomington on Tuesday and Wednesday to visit my brother and to just get away from Indy for a bit. It was so much fun! Even though I was only an hour away it felt like I was on vacation. And trust me, I need one. I stopped by many different little stores but nothing really caught my eye except for these tights from Urban Outfitters. I would rather have the ones from House of Holland (which I have linked) but these will do for now...until they rip which I'm sure will be soon. Tisk tisk Urban. I will still wear them even if they're ripped cause I'm awesome like that. I also bought a cute little floral romper that was on sale for 10 bux. I'm sure I will post it here sometime soon.
This skirt has been one of my favorites for a while and I get many questions about it. Its an older American Apparel skirt that I picked up at Rag-O-Rama for next to nothing. It's still on the website people and It goes with almost anything. Well...to me it does. ;)
I keep waiting and waiting for the sun to come out and for it to quit raining, but it was so gloomy today that I had to take pictures inside. This weekend Maggie and I are getting together to document some more goodies for ya'll. I hope you guys are farther along in your Christmas shopping than I am! Woopsies!